Introduce yourself
My name is Destiny Taylor. I'm a Glamazonan sassy hustler from Indiana. I'm originally from Gary, but I was raised in Indianapolis. I moved to LA after graduation about 7 months ago.
Talk about your work as a Social Media Content Strategist
It's kind of hard to label what I do professionally because it's constantly evolving, but I tell people I'm a social media content strategist. I manage and produce my own YouTube and Instagram blog part-time and now I'm working with Blavity/21Ninety as a branded campaigns coordinator. There I craft social copy that resonates with our audience and create content for IG. I also handle all communication internally and externally with our campaign clients.
Describe your style and what inspires you.
My style is reflective. Everyday it reflects the part of me I want to shine that day. It's also very flirty and sexy. My go to is some sort of hat, an off-the-shoulder top to compliment my collar bones and a pair of super tight high waisted jeans from Fashion Nova. I'm boujie on a budget, so I try not to get fashion inspiration from current trends and icons. I do, however, get inspiration from the 90s, 80, and 70s. I hold Janet Jackson and Clueless dear to my heart.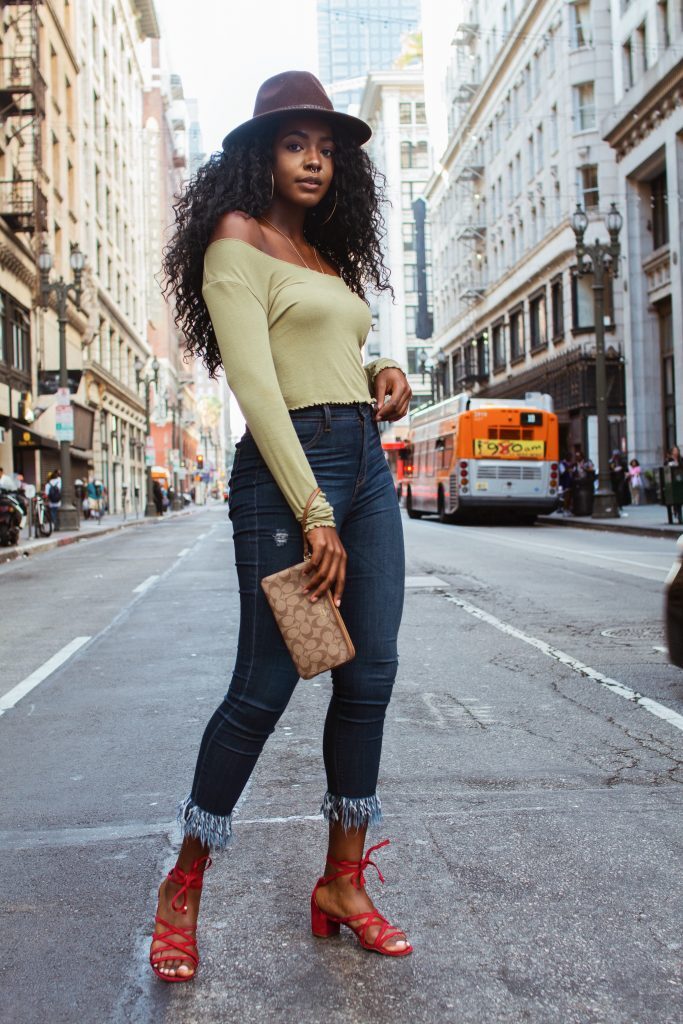 What are your go-to style pieces, accessories, and beauty items?
Go-to style items defiantly hats and shoes with a heel on them. I'm not sure why I love hats so much. My obsession started this past summer. I have this brown structured felt hat that I actually need to stop wearing, but it's all good. I'm about 6 foot, but I love wear heels. I don't feel right in flat shoes.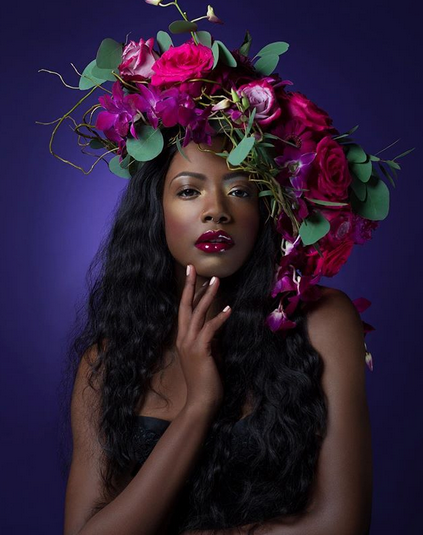 I'm a stan beauty enthusiast and I wear a lightweight full face everyday. You can watch my everyday makeup tutorial here. A bold lippie and mascara is a must thought. I'm currently in love with Glossier's jam lip color. It's like a sexy cozy girl lip tint.
How do you defy society's typical beauty standards?
I defy societies beauty standards everyday by embracing and loving every single inch of my body. I used to be so insecure about my weight, my height, my stretch marks, my complexion, and even my big feet. Everyday someone snarks at height or something stupid, and I say you damn right. Catch me in 5 inch boots and a crop top that displays tiger stripes.
If you'd like to be featured as a BCB Classic beauty, email us several photos and include "Classic Beauty" in the subject line!