Introduce yourself
My name is Aisha Beau Johnson.  I am the Director of Public Relations for the luxury fashion brand, Naeem Khan, by day.  My passion project is my beauty website AishaBeau.com. My website caters specifically to women of color, with a particular focus on enhancing one's natural beauty. So you'll see a lot about skincare, the use of all natural products and hassle free makeup tutorials. I also recently embarked on a natural hair journey which I've been documenting on my website's accompanying YouTube channel. I was born in Jamaica and moved to the states when I was 2.  Since then I've moved from New York to Florida to DC and am now back in the NYC area.
I love your hair! Do you have a hair story to share? What products do you use to achieve your beautiful curls?
Thank you so much! That means a lot. I actually started transitioning to natural about a year ago and after several months decided to big chop for my birthday back in September. Prior to transitioning I had been hooked on the creamy crack for 20 years — TWENTY. I was honestly one of those women who admired others with natural hair, but never wanted to take the leap myself. It wasn't until recent years that I noticed the relaxer was starting to finally take it's toll. My hair would only grow to a certain length and there was a bit of breakage at the crown of my head. I also saw the beauty in the range of styles that women with natural hair could do and my bone straight look had started to bore me, so I knew it was time.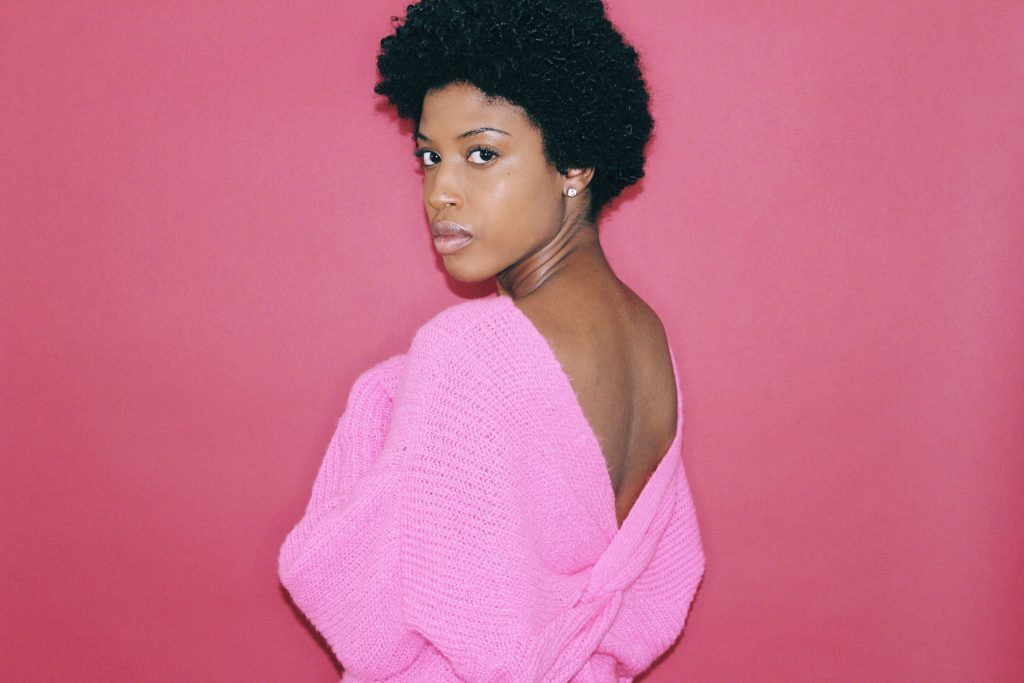 When I started transitioning I literally knew nothing. All of my friends and the blogs had different tips to share so I knew I had to just figure out what worked for me using trial and error. When transitioning, the products I loved were by Hair Story (their New Wash was amazing for my two textures), Cantu leave-in and deep conditioner, As I Am Coconut Co-Wash and the Mielle Organics Brazilian Cocktail Curly Mousse for my Flexi Rod sets. Now that I am fully natural after having had a big chop my go-to products are the Aunt Jackie's Flaxseed Elongating Curling Gel (best for wash and go's, with little to no flaking), Camille Rose Naturals Moisture Max Conditioner, anything from the Creme of Nature Coconut Milk Collection, Jamaican Black Castor Oil, and the Innersense Hydrating Hair Masque.
Describe your style and what inspires you.
My style is extremely mood driven — I'd consider myself to be more of a chameleon when it comes to my personal aesthetic. I wear what I want for the occasion. In some or most instances I generally am slightly over dressed. I think fashion and beauty are supposed to be fun and I probably love the act of getting dressed / beating my face and hair more than actually being out, haha!  I love colors, prints, unique silhouettes and topping off a look with a bold lip. I used to watch my mom and grandmother get dressed all the time growing up and no matter where they were going, they always looked their best. Even to this day they always stand out because they don't hold back when it comes to a look, so I definitely do the same.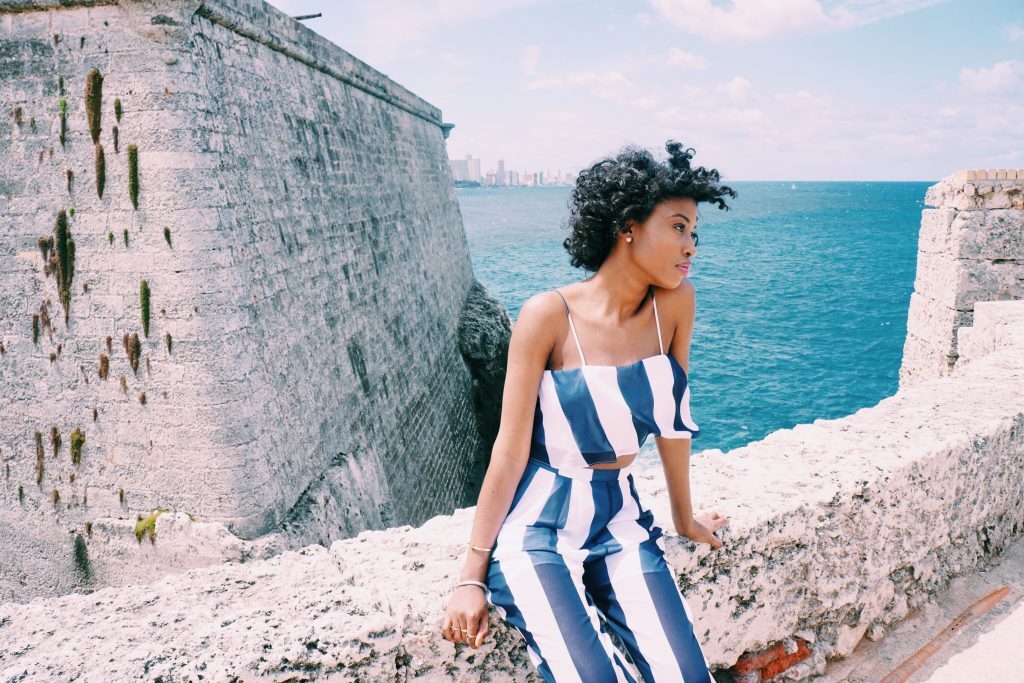 What are your go-to style pieces, accessories, and beauty items?
I go through phases with jewelry. One year I'll be all about a crazy earring, or necklaces then I'll switch it up. For the past few years I've been really into rings and I think that's become my signature. On my right hand I have a number of rings and bracelets — all either given to me as a gift or that I've gotten for myself while traveling.
Now that I have short hair the styling options are pretty limited so I love a headband to jazz things up — in the summer I love a head wrap. My favorite place to shop head wraps is Knots UK — they have a great range of colors to choose from. As for beauty item — I'm all about a statement lip. These days that doesn't simply mean a bright and bold matte color, I love a gloss as well. Gloss to me is a statement within itself and again exudes that fun and flirty look I usually go for.
How do you defy society's typical beauty standards?
I'm black. Haha! But it's true, society is just now recognizing our worth to a point where it comes off as "trendy," which is quite ridiculous. In the personal sense, however, I feel like having cut my hair and showcasing a side of beauty blogging that glorifies a more natural look is different. I love love love the YouTuber's who can contour for the gawds, but that's not realistic for women on the go like myself. So I think paying homage to an everyday beat that comes off as more low maintenance defies today's standard. Healthy hydrated skin is what's most important, so I love showcasing to my readers new skincare techniques that will help make them feel more comfortable in their everyday life.