For those of you who follow Beyond Classically Beautiful and know our photo series well, you might recognize Tyde Courtney Edwards.  She is the woman whose strong physique and graceful moves helped us create some of our most powerful images depicting Black beauty.  Our first Body Noire series was a celebration of Black women's bodies, and she was the perfect subject.  Even more remarkable than her body was the story she shared about how her body has kept her on the outs of the often prejudice classical ballet world, yet it helped her to create her very own movement called Ballet After Dark.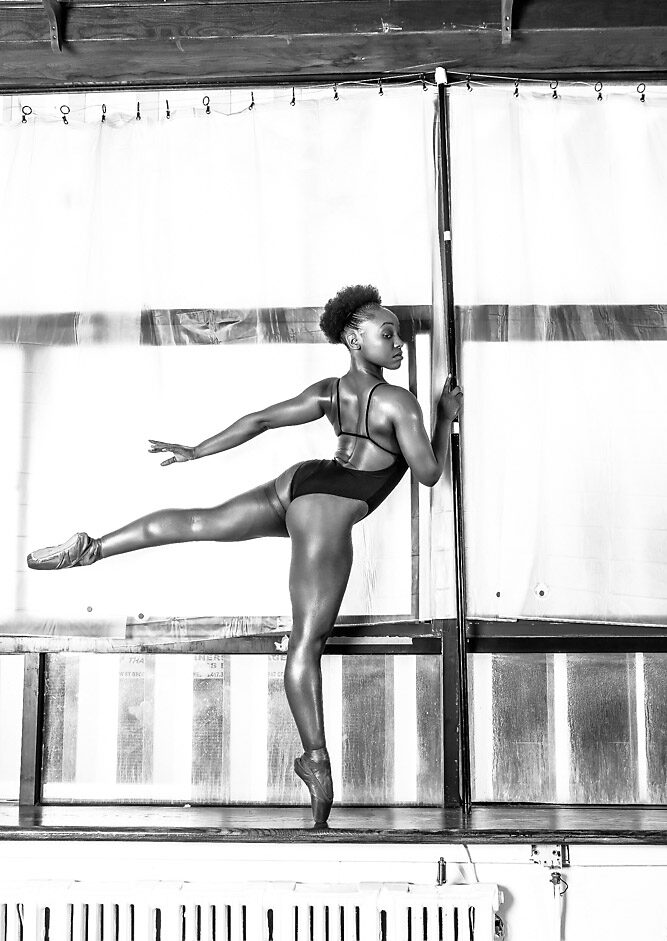 Tyde Courtney is now sharing another side of her story. She was sexually assaulted when she was 25-years-old and went through years of turmoil, until she found her way back to dance.
I caught up with Tyde Courtney to find out how she used ballet to recover from being raped and how she now uses Ballet After Dark's Trap-Ballet class to help other victims of sexual assault.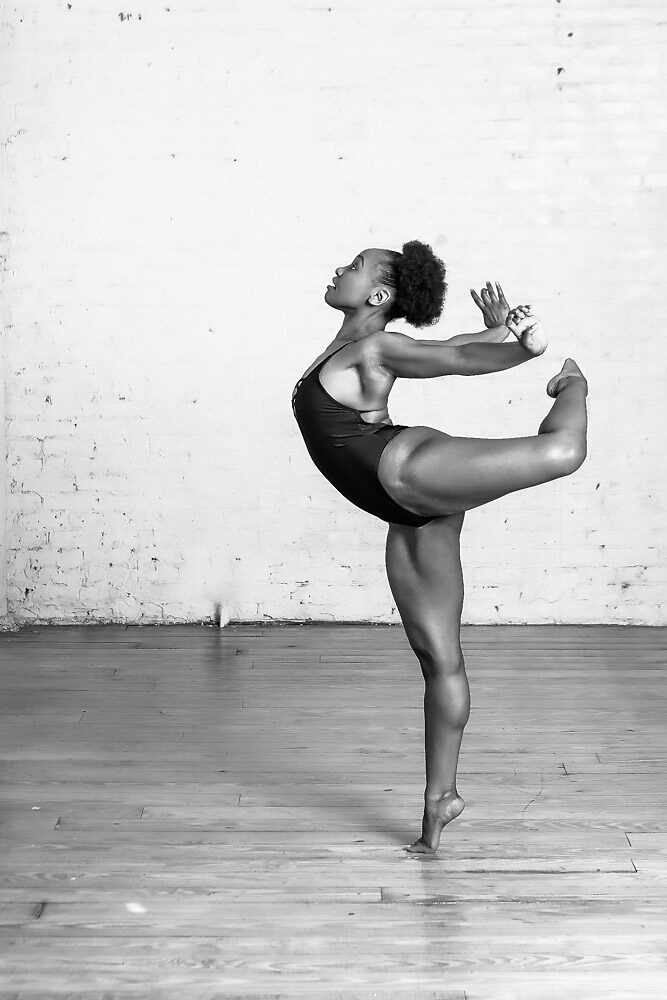 When did you begin as a ballet dancer?
I began recreational ballet at 3 years old. My pre-professional training began at 9 years old.
You were a part of our first Body Noire series, and one of the reasons you said you started Ballet After Dark was because of the obstacles you faced trying to break into the professional ballet world as a black woman with curves. I had no idea it was also inspired by the fact that you were sexually assaulted. Tell us a bit about how Ballet After Dark came about as a result of that incident. How are you using it to help other women who've suffered from sexual abuse?
The entire company was born out of necessity. Prior to my assault, I struggled for years with getting classical dance jobs because of my look. I was either too curvy, too black, too confident, too natural- too the opposite of white. I would show up to auditions and often be the only black woman there. I would be bullied for my hair. I would turn my back and dance accessories would go missing. It was not a world very inclusive to others if you stood out too much. There are tons of black ballet dancers. There aren't too many that jiggle on stage. Those years were very brutal but very inspiring. I was able to recognize the interests that women of various body types and demographics had in ballet and I wanted to create a safe space for them to experience the technique. Ballet After Dark was conceptualized as a ballet based fitness brand that encourages and inspires all women of all sizes to experience ballet at a beginner's level. Various classes offered under the syllabus allow participants to experience a low impact, dancer's workout without the pressure of having the physique of one. It's truly an inclusive fitness program that promotes fit and healthy lifestyles for all body types.
Trap-Ballet is the ballet based, self-care workshop for survivors of domestic and sexual assault. While the program is developed for survivors of domestic and sexual assault, disenfranchised women of all levels are welcomed. We focus on specific elements of self-care to promote healthier lifestyles and journeys of healing. Participants are taught fitness fundamentals and beginner's ballet technique to strengthen the body. We have a sharing circle devoted to self-discovery, use of empowering mantras and other confidence building tools and exercises for the mind. The workshop closes out with a meditation segment that teaches how to settle the mind and to find peace within. These were all key elements in my healing process.
What happened the day you were raped?
The day of my assault I was exiting my vehicle. I was attacked from behind and dragged into the woods where I was assaulted, robbed and left.
How long did it take you to recover physically and emotionally from that incident?
I'm still in recovery. I'll always be in recovery. I just found my strength and just kept it pushing after fucking myself up for a long time. I was raised in a world where the show always goes on… And my shit didn't even start yet so I really wasn't left with any options other than to fight and be great if I ever wanted any type of justice.
How was your case handled by the police?
I was aggressively questioned by police about my whereabouts as if I attacked myself. For weeks following, I had to walk them through the scene and answer the same questions at the precinct. The case was grossly mishandled and eventually turned over to robbery. The assault never went to court. I eventually stopped following up in 2015.
Some who come across your Instagram page could say it's quite risqué. You've shared that your account has been deleted a few times because of people reporting you. You're not shy about showing off your body and you have no issues showing off your love for weed smoking as you practice ballet. It's interesting because ballet appears to be such a refined art form in which smoking would be kept under wraps. Do you feel it's your duty to show another side of ballet or is this your way of flipping the bird at the perfect perception people have of ballet?
I don't consider myself showing off. I consider it more so of an open display of self love. I went from hating myself and slicing my wrists twice to being a woman so immersed with confidence and appreciation for my body and my appearance that I rarely want to be covered. I always say the overall notion is that survivors are supposed to heal a particular way. We're supposed to be quiet. We're supposed to be riddled with guilt. We shouldn't be confident and we definitely shouldn't be sexy. I should be living under the biggest fucking rock. Survivors, particularly women, need to see that you can reclaim your body and your joy and become a better version of yourself- And you can do it without giving zero fucks about how people think you should heal. I smoke daily. Mainly because I have PTSD and anxiety from trauma. It's not to be disrespectful. It's simply my therapy.
Also judging from your IG page, you seem to be comfortable in your skin and with your body as it is now. Where did that confidence come from after your assault?
I've always been confident. I've never believed I wasn't good enough. I just needed to be reminded of the woman I was going to be. I have my moments when I want to throw everything out of the window but I love myself way too much now. I take pleasure in quiet times with myself because of the amount of self-admiration I've developed. As far as my body goes, if I was 300 pounds I'd still be the baddest thing I've ever experienced. I just believe in myself that much. Everyone should.
What do you want Black women and girls to know about how they can triumph after being sexually assaulted?
Black women and girls need to know that assault and trauma of any kind and at any level do not define you. You're smarter than you know and you're stronger than you think. You have to find something that you love so that your pain doesn't consume you. It has to be something that brings you happiness. You find it and embrace it and flourish from there. We're in a constant state of evolution- nothing defeats you. Ever.